Our Women Loving Women
Sensual Support Package
For Lesbians and Bisexual Women


Are you newly out as a lesbian or bisexual woman,
and you have anxiety about making love with another woman?

Are not sure how to make love to another woman,
and you are too embarrassed to ask someone
or buy a sex guide in a local book store?

If you are considering intimacy,
do you know how to protect yourself
against STD transmission from another woman?

Have you been with your partner for years,
and you need to bring some spice to your romantic life?

Would you like to know ways to bring
your partner to total sensual satisfaction, and
have a more intimate and exciting sensual life with her?

Whether you are just coming out,
or you've been intimate with women for years,
our Sensual Support Package
is guaranteed to help you improve your
love life with your female partner
or your money back!

Reviewed and Recommended
by the Editors of
LesbiaNation and She Magazines!
"This sensual package is exactly the kind of in-depth, no-holds barred, entertaining manuals that everyone who loves women should have by their bedside. And that includes ALL women-loving-women, bi, genderqueer, transgendered, intersexed - you name it, this book is inclusive for all. Heck, even the men that pick it up can always use more education - and this package doesn't discriminate. To which, I say hell yeah! Too many sex guides don't take into account the wide spectrum of human sexuality. Not true for this package. Hands-on, and that should be taken quite literally, this is one of the best sensual packages out there for those who desire to put the heat back in the bedroom, or for those just getting started in the wondrous world of loving women."
L. A. Vess
Managing Editor, LesbiaNation Magazine



"This is much more than a book offering encouragement, or advice or the sharing of the authors' own personal experiences, it is a package that offers practical "hands on, and how to" instructions for loving a woman properly. That includes respectfully loving ourselves as women, while we safely make love to each other. The chapter 'Plain Talk About Safer Sex'was eye opening, and while the writing style is humorous, hopefully everyone reading this excellent package will take the need to practice 'safer sex' to heart while taking the object of their desires to bed."
Diane Wilde
Cover to Cover Review She Magazine
Our Women Loving Women Sensual Support Package
includes step-by-step instructions with over
100 illustrations of women making love with women.


This Ebook Support Package is instantly downloadable
to the privacy of your own computer, and includes
our Lesbian Sex Tips Guide plus 4 Great Bonuses: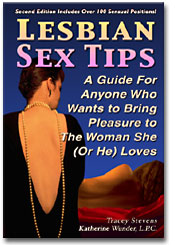 Our 114 Page Ebook:
"Lesbian Sex Tips: A Guide For Anyone Who Wants
To Bring Pleasure To The Woman She (Or He) Loves"
Description: This fun to read guide is definitely not a dry "how-to" manual, and it contains more than just sexual tips. Written with inclusive language for both women and men, this book was written for the benefit of all consenting adults who love women including: lesbians, bisexual women and men, straight men, transgendered men and transgendered women who are lesbian, and straight women who want to learn more about their own bodies. This book includes step-by-step instructions on ways to make love to women, illustrated anatomical drawings, tips on communication, safer sex and more! This book was highly recommended by Sue Johanson on her TV show and also in Sue's book. Our Lesbian Sex Tips Guide sells for $17.95.

SUNDAY NIGHT SEX SHOW REVIEW:
"Many males wonder how lesbians have sex - after all, they don't have a penis between them. You know what? Males could learn a lot of lovemaking tips from lesbians. Here is a great book, LESBIAN SEX TIPS: A Guide for Anyone Who Wants To Bring Pleasure to the Woman She (Or He) Loves. It will answer all your questions. Just because Lesbian is in the title, anybody who loves and is sexually active with women will gain great insight into their sexual responses and how to please them. This is one invaluable little book by Tracey Stevens & Cathy Wonder."
Sue Johanson Sunday Night Sex Show
Sue Johanson is Canada's foremost sexual educator and counselor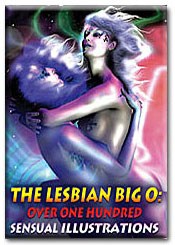 BONUS 1
The Lesbian Big O: Over 100 Sensual Illustrations
Description: "As a special bonus for acting immediately, we'll give you a copy of The Lesbian Big O: Over 100 Sensual Illustrations. This full-color, 8.5" X 11" Ebook has over 100 illustrated positions of lesbians making love with each other. Because one of our goals is for all women to have great sensual lives, this guide is recommended for anyone who loves women. This Ebook regularly sells for $14.95, but you will receive 100 more ideas on how to make love to women FREE!

EDITORIAL REVIEW:


"Have you ever wished you had your own lesbian version of the Kama Sutra at your fingertips? Well, now you can with a new illustrated sex guide for lesbians. "The Lesbian Big O: Over 100 Sensual Illustrations" by Tracey Stevens features a delightful variety of lovingly drawn positions for you and your lover to experiment with.

"From the basic to the adventurous, "The Lesbian Big O" details a virtual smorgasbord of ways girls can get together in the privacy of their bedroom for some luxurious lovemaking. The guide aims to help lesbians learn to enjoy a more exciting, sensual love life. The simple and classy illustrations won't titillate, but they do provide a practical and easy to follow guide to trying out all sorts of different positions that you may haven't even thought of before.

"One of the best ways to avoid that horrible fate nicknamed 'lesbian bed death' is to keep things interesting in the bedroom (or living room, or kitchen, or wherever). Switching things up, changing positions, trying out new ways to be intimate can inject a healthy load of spice into your sex life. However, trying new things can be scary. Experimenting with new ways of making love can often be an awkward experience, with fumbling limbs flying about. "The Lesbian Big O" gives you a jump start by guiding you gently along your way, demonstrating visually where to best put all those body parts for mutual satisfaction.

"Perhaps the loveliest thing about the guide is that it encourages the use of more than just hands and mouth in the act of lovemaking. The book illustrates many positions designed for stimulation and enjoyment with areas of the body one might not normally think of. For those who enjoy adding toys to love-play, almost every position in the book can also accommodate the addition of toys and some of the recommended positions include a drawn-in strap-on."
L. A. Vess
Managing Editor, LesbiaNation.com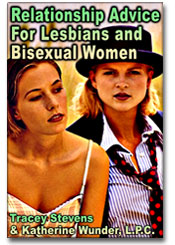 BONUS 2
Relationship Advice for Lesbians and Bisexual Women
Description: "Relationship Advice for Lesbian and Bisexual Women" has the information you will need when you venture out into the lesbian community and start dating. Over 100 questions are answered and organized in the following chapters: Lesbian Dating Advice, The LGBT Community and Family Life, Lesbian Relationship Problems, Childhood and Sexual Abuse, Coping With The Straight World, and General Living Advice. This Ebook also sells for $14.95.
READER REVIEW
"I LOVE the new Relationship Advice book. You deal with some very difficult issues in a very frank and to-the-point manner, yet you do it very lovingly and with amazing humor and wisdom. You give us all of your sage advice and wisdom; from internalized homophobia and self -hated, to self love and acceptance of ourselves; from meeting other lesbians online and in the real world, to dating and moving into long-term relationships; from leaving abusive relationships (or marriages), to moving into self-reliance and standing honestly in our lives as totally actualized lesbians! I highly recommend this book to all lesbians--heck, it is a great advice book for anyone, heterosexual, homosexual, bisexual, or asexual. Very practical and important book that challenges, advises and supports both lesbians and bisexual women!
DJ Messier, Portland, ME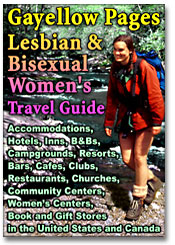 BONUS 3
Lesbian and Bisexual Women's Travel Guide
Description: This Ebook guide is published by Gayellow Pages, and lists Lesbian and Bisexual Accommodations, Hotels, Inns, B&Bs, Campgrounds, Resorts, Bars, Cafes, Clubs, Restaurants, Churches, Community Centers, Women's Centers, Book and Gift Stores in the US and Canada. You can search for specific key words within the text, like your state our city, or anywhere you may be thinking of vacationing. Gayellow Pages is a sponsor of our SFLCO Group, and has allowed us to promote their travel guide with our Sensual Support Package.
This is a great guide to have and is a $14.95 value!
READER REVIEW
"This guide let me know the best local places and also helped me set up a vacation that included lesbian friendly places to go and see with my girlfriend! Thanks so much."
Terry Weist, Orlando, FL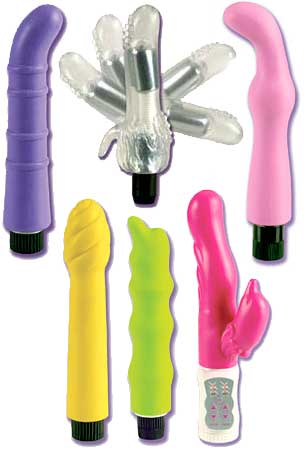 BONUS 4
An Exclusive Password Protected Membership
to our Discount Sensual Toy Store!
Description: This membership includes over 5,000 products designed for women! If you really want to totally satisfy your female partner, bring out a sensual toy after you've been together, and make her orgasm 5 to 10 times more! After prolonged sensual sessions our bodies can get tired, but your GF may still want more. If she does, just whip out a G-Spot or clitoral vibrator to continue on with the pleasure. There's nothing to be ashamed of; just use the toy as an extension of yourself, and make her know that you are the best partner she's ever had, or that she ever will have! All products in our Discount Toy Store are at least 25% less than our regular store. This is a huge savings for anyone who wants to bring more spice to her sex life!
Note: Discount on Sensual Toys Only. Video, DVD, Pay Per View is not included. Membership to our discount store is a $50.00 value!
READER REVIEW
"I always wanted to use adult toys with my girlfriend, but I was just too embarrassed. After reading the Sex Tips Guide together, we went online to the Lesbian Sex Tips Toy Store and bought some great toys that we both have fun using together. Thanks so much!"
Jenny L., Tryon, NC
Just the books in our Women Loving Women Sensual Support Package retail for $62.80, and our discount Sensual Store membership is $50 , making our Total Sensual Support Package worth over $100.00, but if you purchase today, our package is only $24.95--
AS A SPECIAL INTRODUCTORY, WE ARE REDUCING THE PRICE OF OUR TOTAL SENSUAL SUPPORT PACKAGE TO $19.95!
This introductory offer will not last long, and if you are not completely satisfied, our Sensual Support Package comes with a 100%, no questions asked, Money Back Guarantee:
Your happiness with our
Women Loving Women Sensual Support Package
is completely guaranteed:
If you aren't 100% satisfied with our downloadable Women Loving Women Sensual Support Package, we don't expect, or want, to keep your money. Simply contact Amazing Dreams Publishing at either of the links on this page, and we'll happily refund your money in full. Even if you decide the Women Loving Women Sensual Support Package is not for you, the 4 free bonuses are yours to keep regardless, as a "thank you" gift from us. That means you can't lose!
To order now through our
Secure Amazing Dreams Publishing Server,
and get instant access to our
Women Loving Women Sensual Support Package
Plus Your 4 Free Bonuses,
Click the Button Below Now:
Women Loving Women Sensual Support Package