How To Be A Happy Lesbian:
A Coming Out Guide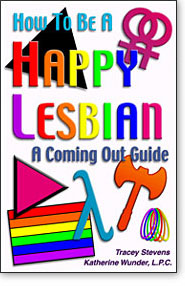 Description:
This 223 page book has a 5 Star Rating on Amazon, and contains everything a lesbian, bisexual or questioning woman needs to arm herself in the world. Along with chapters on anatomy, safer sex, communication, romance and making love, this guide includes information on what is a lesbian and how to accept yourself if you are one; advice on coming out and where to get help if you need it; the language of being lesbian and how to own those names that you may be called; where to go to meet others who are lesbian and the art of knowing who is and who isn't; a chapter on lesbian and gay role models throughout history; and a section listing the top lesbian films from 1928 to the present.
How To Be A Happy Lesbian: A Coming Out Guide
Authors:Tracey Stevens/Cathy Wonder
ISBN: 0-9719628-0-4
13 digit ISBN: 978-0-9719628-0-4
Type and Size: Paperback and Ebook 5" x 8"
List Price: $17.95 Soft Cover, $16.95 Ebook Edition
Page Count: 223 Pages
Illustrations: Paperback Edition--Black and White, Ebook edition--Color
Description: Self-help Guide, Nonfiction.
Availability:
Soft Cover Version from Amazon



Wholesale for Bookstores and Libraries



Standalone Instantly Downloadable Ebook Version



BEST VALUE: Part of our Total Coming Out Support Package
for Lesbians, Bisexual and Questioning Women
In this book you will discover:

•

How to accept yourself if you are a lesbian.

•

Information on coming out and where to get help if you need it.

•

The language of being lesbian and what all the symbols mean.

•

Where to go to meet others who are lesbian and the art of knowing who is and who isn't.

•

Plain talk and suggestions on how to cope in the world today.

•

Lesbian and gay role models you may not have known about.

•

Relationship skills and how to truly communicate, instead of fight, with your partner.

•

Advice on romance and how to love not only your partner's body, but also her heart and mind.

•

Lesbian anatomy including illustrations and descriptions of all those delicate parts.

•

Pointers on making love including instructions on how to find some of the spots that please a woman most.

•

Plain talk about safer sex, which contains a list of common sexually transmitted diseases and their symptoms and general treatments.

•

Section on childhood abuse issues which can block people from having healthy adult relationships, and domestic partner abuse issues that sometimes stem from childhood abuse, includes symptoms and how to get help if you need it.

•

Facts on counseling and what to expect if you see a therapist.
Lesbianism and the connection of heart, mind, body, and soul
Coming out in a nonsupportive environment
Lesbian, gay, bisexual, straight, and all the in-betweens
So how do I recognize who is and who's not?
What exactly is Gaydar?
Homo bumper stickers on the highway of life
The symbols of being gay and what they mean
Where do I go to meet the lesbian of my dreams?
How To Be A Happy Lesbian is a must for newly out lesbians


I'm a late bloomer. I've been in and out of the closet for years, but when I say "out" I mean only a day or two! I've always jumped right back into the closet, and I've been sad, alone, and miserable romantically and sexually my entire life. A year ago I came out yet again, and I just happened to find a group on line for helping lesbians who were just coming out. I joined the group, and thought for sure that everyone there would be young women. I'm 57 years old, and I felt very out of place, but what I found is that there were many women in the group who were older...my age even. Anyway, what I found was an excellent group of women who were intelligent and caring. This book, "How To Be A Happy Lesbian: A Coming Out Guide" by Tracey Stevens and Cathy Wonder, was suggested reading. I bought myself a copy right away. I do not think that I would have stayed out of the closet for this whole year if it hadn't been for the group, and the coming out guide. It is written simply and straightforwardly. It answered every single question I had, and then some. I highly recommend this book. It talks about everything from coming out to people we love, to lesbian dating, to gaydar, to STDs to be careful of, to living in the world as a lesbian. There is a whole chapter introducing the reader to a long list of famous women who were/are lesbian. There is a chapter on the art of making lesbian love and romance, which is direct and to the point. Everything you need to know about coming out and fitting your new self into the world around you is in this book. It is a must read for newly out lesbians, and lesbians who've been out for some time. I give it 5 stars, 10 if I could. Excellent book!"
DJ Messier, Lewiston, Maine

Chapter 2 Body talk and basic lesbian anatomy
What's the use of learning this?
People ARE different.
What is bodily communication?
So what can a body say?
Erogenous zones—places that both give you chills and make you hot
Breasts are more than "Got Milk?"
Introducing the vulva, and I don't mean the car
READER REVIEW
:



What is needed for those (of us) coming out!
I especially appreciated how attention was given to the younger aged women/girls who are making this transition. Tracey really puts emphasis on the importance of getting an education to enable one to live the life they truly believe they were meant for, without having to depend on anyone else. That kind of positive support, in this day and age is invaluable. Though, I'm much older, I found the information to apply to me as well. Thanks!
MR (Los Angeles, CA)
What is safer sex?
But I thought lesbians couldn't get STDs from each other.
So what can I do to protect myself?
Handy items for safer sex
What's considered safe, risky, or unsafe behavior?
If you and your partner are considering having a child
A serious warning
A list of STDs, their symptoms, and general treatment
For more info
READER REVIEW
:



Outstanding
I'm not the type to write reviews on anything but I would be a fool if I did not. This book is excellent and has enhanced my relationship with my partner. I highly recommend this book.

Tana Thomas Babylon, NY
Chapter 4 Communication: the key to working relationships
Basic rules of communication
Them's fightin' words
Coming out
Trust
How to discuss sexually transmitted disease
Pillow talk
READER REVIEW
:



I am now an even Happier Lesbian...thanks to this book
I think this book is definitely a "bring yourself out of the closet book" When I decided to come out I was a little bewildered...not wanting to go to any support groups...not wanting everyone KNOWING I was a lesbian. I thought the lesbian's would think I was fake, because I had no idea of the how to be lesbian, let alone a happy one. I just knew I was attracted to women, always had been and had only just decided to do something about it. Enter this great book, "How to be a Happy Lesbian" and HELLO WORLD, I'm a Lesbian...I love women, and I'm proud to be out. This book is so easy to read, so frank, so honest so matter of fact, after reading it or bits of it that you zoom in to the parts that interest you the most, i.e. communication chapter, or symbols of lesbianism, you feel so free...so able to breathe and take on board your sexuality, to be proud of who you are. If you are in the closet, coming out, or fully out, this book is a MUST!!
By Tara, Barcelona, Spain
Romance, the best way to keep a relationship happy
Some romantic things to do
First things first
Before foreplay—what to do to get her, and you, in the mood
Do not be afraid of being a great lover
So how do I know when she's getting in the mood
Foreplay, the next step to passion
The move to sexual intimacy
On to the breasts
Moving down south
Working towards orgasm
Some other techniques and positions
Adult toys—let's take the pleasure a step further
Other ways of being sexual
Childhood abuse: sexual, physical, and emotional
Domestic Partner Abuse
READER REVIEW
:



A must have book for women loving women!
The coming out process can be pretty scary and intimidating. When I was in search for information about being a lesbian I found this wonderful book rightly named "A coming out guide" to become a happy lesbian. Its title announces the world that is waiting for us inside the book and out: a path of hope, pride and acceptance. The authors take your hand and show you how being a lesbian is no shame or wrong. On the contrary, with a gentle tone and openly discussing the most pressing questions for any woman coming out, they rescued me from what I thought it was a deep obscure hole. I am very grateful to the authors for sharing their experience and helping me being a happy loving lesbian. I recommend the book not only to coming out women but to their families and friends. It is full of advice, tips and information. It even includes movie reviews. This is a must have book for women loving women--Excellent!
M. C. Trujillom, Maryland
MCs and closet cases
The radical Christian Reich—I mean right!
What is the deal with the "Gay Agenda"?
Gay animals?
Being lesbian—a soul choice, heredity, or a result of environment?
READER REVIEW
:


Just finished reading the Coming Out Guide with my girl, well sort of since we are still half way around the world from each other. We just wanted to say Thanks Tracey and Kathy and we both enjoyed it. She's been out to her family for awhile now but I'm not, as of yet anyway. We both enjoyed reading it and had some great discussions over it online together.
Heather D. Los Angeles, CA
Our "civil rights" in the USA
Don't laws protect us from discrimination?
Why aren't we protected? We pay taxes too!
The privilege of being heterosexual
Heterosexism, a right of the majority?
Heterosexual, choice or not?
READER REVIEW
:



This book is very well written. It is well organized and an easy read.
It is clear and concise and very informative. This is a MUST HAVE for any book collection. When I finally admitted I was a lesbian I was confused and had a million questions. This book answered them all. The extensive list of resources alone is worth the purchase price. I have a few chapters I am constantly referring back to. It is great to have all that knowledge at my fingertips. Stevens/Wunder have written the only coming out guide you will ever need. I recommend this book not only to lesbians but to their friends and family as well.

Elena B. New York, NY
Jane Addams
Susan B. Anthony
Katharine Lee Bates
Marie-Rosalie Bonheur
Rita Mae Brown
Ellen DeGeneres
Emily Dickinson
Melissa Etheridge
Anna Freud
Radclyffe Hall
k.d. Lang
Martina Navratilova
Florence Nightingale
Eleanor Roosevelt
Sappho
Bessie Smith
Gertrude Stein
Alice Walker
Patricia Nell Warren
Virginia Woolf
The Woman Chief of the Crow Indians
Some famous gay male role models
Be strong and proud
READER REVIEW
:



Newbie with lots to learn
It never occurred to me that Happy and Lesbian could be in the same sentence. Through the support I have received and this book I now believe it is possible. This book is a whole relationship guide which is cool. Not many books take you from how to meet them to how to live with them. The history and terminology and everything included makes it a very helpful and well rounded book for everyone not just those coming out.
BC Newbie
Some of the top lesbian films
READER REVIEW
:



A definite read if you love woman
Kia ora ~ This book has been a godsend. I am not one to read much but completed this book, cover to cover in two days. It was great to finally realize that the feelings I was having were completely normal and that I was not alone. It is an easy to read book that openly and honestly covers topics relating being a lesbian. The information on safe sex was important as it was something I had not considered and would have been far too embarrassed to ask. I live in New Zealand and have not been able to find anything as comprehensive as "How to Be a Happy Lesbian" here in my home country. The added bonus is that I am now part of a fantastic Support Group for Woman Coming Out and am able to share experiences with woman all over the world. This book is written for anyone who loves woman. I have passed it on to my girlfriend to read next. I also work as a Social Worker and would certainly recommend it to anyone struggling with their sexuality.
Rainbow Angel (New Zealand)

Chapter 10 Counseling, from a therapist's point of view
Introduction
What do the mental health associations say about lesbians?
Your options for counseling
The counseling process
Some methods used in therapy
Confidentiality
Considerations
Through the looking glass:
A section for therapists unfamiliar with lesbians and gay men
READER REVIEW
:



Wonderful for anyone curious about why women love women!
This book not only is for women who are coming out of the closet, but it is also for anyone who wants a real perspective on Lesbians. The writers use real world examples and experiences to the reader and give a candid understanding of Lesbian life. This is an eye opening read for anyone with questions and I am glad it was there for me to pass onto others. Read it even if you're not a lesbian and you will find out what many already know...lesbians are people just like you.

Cooper Casey
The hard knocks
Things I've learned as a lesbian so far
A joyful summary
READER REVIEW
:


Bravo to authors Tracey Stevens and Cathy Wonder.

How To Be A Happy Lesbian: A Coming Out Guide is truly a worthwhile read for women of any age who are questioning or coming to terms with being lesbian or bisexual. Every aspect of life is covered...everything from how to know whether or not one is lesbian or bi, sex, safe sex, how to handle discrimination, how to choose a therapist if needed, dealing with issues of abuse, just living daily life, and much, much more. The chapter on communication was outstanding. This book is written with warmth, honesty and humor. I don't think any woman could read A Coming Out Guide and not feel a greater sense of respect and pride for herself.

The subjects covered and the information are good not only for those just coming out but for those who have been out for a while. And also helpful for friends and family that are caring and wanting to know what their loved one is facing and going through. Tracey Stevens has also set up a discussion group, Support For Lesbians Coming Out (SFLCO) that provides confidentiality, respect and support in a safe arena for hundreds of women coming out or just trying to determine where they fit in this sexual continuum. Kudos to Stevens and Wunder for work well done!

Music Lover