Lesbian Sex Tips:
A Guide For Anyone
Who Wants to Bring Pleasure
to the Woman She (Or He) Loves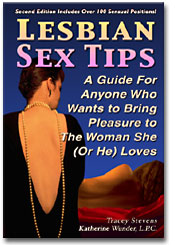 Description:
Do you want to be great in bed?
Do you need a road map to femville?
This fun to read guide is definitely not a dry "how-to" manual, and it contains more than just sexual tips. Written with inclusive language for both women and men, this book was written for the benefit of all consenting adults who love women including: lesbians, bisexual women and men, straight men, transgendered men and transgendered women who are lesbian, and straight women who want to learn more about their own bodies.
Lesbian Sex Tips: A Guide For Anyone Who Wants
to Bring Pleasure to the Woman She (Or He) Loves
Authors:Tracey Stevens/Cathy Wonder
ISBN: 0-9719628-2-0
13 digit ISBN: 978-0-9719628-2-0
Type and Size: Paperback and Ebook 5" x 8"
List Price: $16.95 Soft Cover, $16.95 Ebook Edition
Page Count: 114 pages
Illustrations: Paperback Edition--Black and White, Ebook edition--Color
Description: Self-help Guide, Nonfiction.
Availability:
Soft Cover Version from Amazon



Wholesale for Bookstores and Libraries



Standalone Instantly Downloadable Ebook Version



BEST VALUE: Part of our Total Women Loving Women Support Package
for Lesbians, Bisexual and Questioning Women
In this book you will discover:

•

Advice on romance and how to love not only your partner's body,
but also her heart and mind.

•

Women's anatomy, including illustrations and descriptions of all those delicate parts.

•

Pointers on making love, including instructions on how to find some of the spots that please a woman most.

•

Information on different adult toys and how to use them.

•

Points on passion and how to bring a woman to orgasm over and over again.

•

Plain talk about safer sex, which contains a list of common sexually transmitted diseases and their symptoms and treatments.

•

Sections on childhood abuse issues which can block people from having healthy adult relationships, and domestic partner abuse issues that sometimes stem from childhood abuse, includes symptoms and how to get help if you need it.

•

Facts on counseling and what to expect if you see a therapist.
Table of Contents



Click on Chapter Numbers for a Sample Page
What's the use of learning this?
People ARE different.
What is bodily communication?
So what can a body say?
Erogenous zones—places that both give you chills and make you hot
Breasts are more than "Got Milk?"
Introducing the vulva, and I don't mean the car
What is safer sex?
But I thought women couldn't get STDs from each other.
So what can I do to protect myself?
Handy items for safer sex
What's considered safe, risky, or unsafe behavior?
If you and your partner are considering having a child
A serious warning
A list of STDs, their symptoms, and general treatment
For more info
READER REVIEW
:


"The safer sex tips made a big impression on me. While I know that any kind of sexual activity can lead to STD transmission, I didn't really associate it with women. Can't quite pinpoint what it was that impressed the safer sex info on my brain - the tone, humor, or the lack of preachiness - but I realized one day that while I was fixing a cup of coffee, I'd been mentally going over the Guide's suggested To Do List before considering intimacy. It was a trip actually - adding milk to my coffee while my brain was busily calculating the last time I'd been with anyone, the date of my last complete physical including complete blood screening, and the location of nearest medical supply store figuring I could pick up the stuff in the Guide. Long and short of it: My Sex Tips Guide gets referenced a lot.
Nicole B., Washington, DC
Chapter 3: Communication: the key to working relationships
Basic rules of communication
Them's fightin' words
Coming out
Trust
How to discuss sexually transmitted disease
Pillow talk
READER REVIEW
:


"The moment I opened the book, I knew I had come to the right place. I read all the tips and soon had I chance to use them during my first encounter with a woman....I can tell you without a doubt that haven't I read the book, I wouldn't have felt that confident in bed with my first woman partner. I felt very comfortable and safe because I had a world of information with me, a trusty source for someone who had no idea where to go and how to ask for advice. I really think sex should always be safe and I learnt to be safe and enjoy at the same time. A must read for coming out women and a great review for seasoned lesbians. Highly recommend it!"
My Turn, Florida, Amazon Review
Chapter 4: Romance and the art of making lesbian love
Romance, the best way to keep a relationship happy
Some romantic things to do
First things first
Before foreplay—what to do to get her, and you, in the mood
Do not be afraid of being a great lover.
So how do I know when she's getting in the mood?
Foreplay, the next step to passion
The move to sexual intimacy
Some other techniques and positions
Adult toys—let's take the pleasure a step furthe
Other ways of being sexua
Childhood abuse: sexual, physical, and emotion
Domestic partner abuse
READER REVIEW
:


"Lesbian Sex Tips is exactly the kind of in-depth, no-holds barred, entertaining sex manual that everyone who loves women should have by their bedside. And that includes ALL women-loving-women, bi, genderqueer, transgendered, intersexed - you name it, this book is inclusive for all. Heck, even the men that pick it up can always use more education - and this manual doesn't discriminate. To which, I say hell yeah! Too many sex guides don't take into account the wide spectrum of human sexuality. Not true for this book. Hands-on, and that should be taken quite literally, this is one of the best sex guides out there for those who desire to put the heat back in the bedroom, or for those just getting started in the wondrous world of loving women."
L. A. Vess
Managing Editor, LesbiaNation Magazine
Chapter 5: Counseling, from a therapist's point of view
Introduction
Your options for counseling
The counseling process
Some methods used in therapy
Confidentiality
Considerations
Through the looking glass:
A section for therapists unfamiliar with lesbians and gay men
READER REVIEW
:


"I thought before I read this book that I would know most of what was in it already...but I had no idea of the scope of what was inside. I'm impressed. The authors went from a to z, not leaving any stone unturned. The chapters on anatomy, safe sex and making love are well written. And I personally am glad they included the chapters on communication, abuse, counseling, Including the list of resources at the end of the book was a great idea...I'm sure many people will find this helpful. I'm positive that many people will find the WHOLE book helpful."
Marcia, D. Canada
Chapter 6: Living in the primarily heterosexual USA
A final little soapbox
Our "civil rights" in the US
Don't laws protect gay people from discrimination?
Why aren't gay people protected? They pay taxes too.
The privilege of being heterosexual
Heterosexism, a right of the majority?
Heterosexual, choice or not? t?
Reference Books
Resources
Helping your family understand
Where to go for help if you've been sexually abused
Online support for women who are victims of domestic partner abuse;
childhood psychological, physical or sexual abuse; rape and hate crimes
Friendly places to buy books and videos
Toys, safer sex items, and other stuff for women
Internet hosting
Electronic cards for and by women

To purchase
"Lesbian Sex Tips"
Our Printed Version from Amazon.com
for $17.95 plus shipping and Handling:

To see the printed version of our
Lesbian Sex Tips Guide,
Please click the following link:


"Lesbian Sex Tips"
Soft Cover Version from Amazon:
BEST VALUE:


Part of our instantly downloadable
Women Loving Women Support Package for $19.95:


To see our total Women Loving Women
Sensual Support Package, which includes our
Lesbian Sex Tips Guide and 3 other Sensuality Books,
plus membership to our Discount Sensual Toy Store
Please click the following link:


Women Loving Women Sensual Support Package
For Lesbians and Bisexual Women