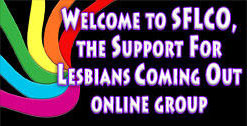 Information About Our Online Group
Support For Lesbians Coming Out
(SFLCO)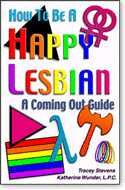 Support For Lesbians Coming Out (SFLCO) is an online Yahoo support group sponsored by Amazing Dreams Publishing and the GayellowPages--THE SOURCE FOR WOMEN.



We are providing a safe haven where lesbian, bisexual and questioning women worldwide can find acceptance and a friendly atmosphere. New members are given a discount link for our new Coming Out Support Package, which includes "How To Be A Happy Lesbian," our new "Coming Out Advice for Lesbians, Bisexual and Questioning Women" and "Relationship Advice for Lesbians and Bisexual Women. The authors of these books are the owners and moderators of our SFLCO group.



Most of our members are over 25, and some have been married in the past and are in the coming out process. We do have a few younger women, which is why we always screen any new members; please read ***NOTE*** below.



Because we want to serve all ages, this group is not meant for cruising or posting R or X rated photos. We will not tolerate unkind remarks or trouble makers. Anyone reported will be permanently blocked. A few women have joined our support group, and then tried to make it into an online dating service, which it is not a place for that at all. There are plenty of other online groups for that purpose.



If you are looking for a friendship type of a group, we have Regional Networking Groups for Lesbian and Bisexual women set up for that purpose here:



www.amazingdreamspublishing.com/lesbian-bi-networking.html



If you are looking for a dating group, we provide some great online dating tips and have online dating services for lesbian and bisexual women that are really good here:



www.amazingdreamspublishing.com/lesbian-online-dating-tips.html



I f you need a support group for your coming out process, or you would like to be a supportive big sister to our members who are coming out, we will gladly consider your membership. Please read the ***NOTE*** below, and then follow the link to our Yahoo Support for Lesbians Coming Out Group.
----------------------------------------------------------------------------------------------------------------
***NOTE*** PLEASE READ:
The Support for Lesbians Coming Out group (SFLCO) is a support group for lesbians, bisexual and questioning women who are coming out, and our group is for women only. To protect our members, anyone applying to the SFLCO must fill out an Agree to Rules Form. On this form we ask that you state your reasons for joining, including if you are lesbian or bisexual. Unless you are invited, all new members must have a Yahoo Public Profile that shows you are Female to join this group. Instructions on how to do this will automatically be sent out to all pending members. Please check your SPAM or Junk Mail folders for these instructions.

If you are a lesbian, bisexual or questioning woman and are just coming out and you need a place to feel safe, please join the group and write us a bit about yourself and your reasons for joining the group. There is a place to do this when filling out your Yahoo application form for this group. We will discuss your pending membership with the moderator and owner of the group to see if they approve. You will have a reply via your Email address that you have listed with Yahoo within 48 hours. If you do not hear from us within that time period, please check your SPAM or Junk Mail folders for emails from us concerning your membership.

We follow this procedure to protect our members. If you become a member you will be protected under the same strict rules.
--------------------------------------------------------------------------------------------------------------------
The reason the Support For Lesbians Coming Out Group came into existence:.

I had shopped around my partner and my book "How To Be A Happy Lesbian: A Coming Out Guide" for about a year to the big NYC publishers, only to find that no one was interested in it. Seems they didn't like my idea of having a downloadable PDF version of our guide for women who needed it but were afraid to buy it in a bookstore, or to women living in countries where being a lesbian could be a death sentence.

I finally decided enough was enough, and with encouragement from my mentor, a very famous lesbian writer who owns her own publishing company, I decided to market the book myself. I had been the graphic design manager for a book distributor for several years, so I had learned a lot about the industry. I had also been designing magazines and catalogs for a long time, so the jump to designing books was no big deal. After much agonizing over coming out in such a huge way, I finally decided to start my own company, and Amazing Dreams Publishing was born.

"How To Be A Happy Lesbian: A Coming Out Guide" was written primarily for young women who were coming out, but women of all ages and from all parts of the world were downloading the Acrobat PDF version--I think it has been downloaded over 1500 times. After it had been available for a few months, I had one woman Email me that she really loved the book, but needed more support in her coming out process. She was married with kids, and living in a rural town out West somewhere, and there sure wasn't any support for LGBT people for miles around.

I agreed with her, and on Nov 5, 2003 I started an online support group to help with a need that had not been met in the Coming Out Guide. I guess this woman Emailing me was a pretty important thing, because over two thirds of our members are or have been married to men, most have kids, and many are living in very rural situations. This is not just in the US; some of our members also live in countries where being a lesbian can mean a 10 year prison sentence or public execution, so the Support For Lesbians Coming Out group has become a lifeline for many women.

I am totally surprised by where this road took both me and Amazing Dreams Publishing. I would have never imagined that I would be running a support group that so far has helped over 5,000 gay and bisexual women from almost every country in the world, but in the long-run things usually work out for the best. It is amazing to me that being turned down by all those publishers led into this incredible group of women who are supporting each other worldwide. I think it is the most important thing I have ever done in my life.

To me, we are all human beings, no matter what country we are from; what color our skin is; what religion we embrace, or do not embrace; what education we have, or don't have; what home-life we have now or in the past; what name we call ourselves, or what names other people call us; and on and on and on. There is still the basic fact that we are women, living in a world that treats us, for the most part, as second rate citizens, but the truth is that we are all Goddesses on our on journey to becoming the best we can be!

Tracey
Co-author of:
"How To Be A Happy Lesbian: A Coming Out Guide"
"Coming Out Advice For Lesbians, Bisexual and Questioning Women"
"Relationship Advice For Lesbians and Bisexual Women"
Owner/Moderator of the Support For Lesbians Coming Out (SFLCO) Online Support Group

What our members are saying about our
Support For Lesbians Coming Out Group:

"I've only been a member for a short couple of months too. I have found this to be the best thing I've done for myself in a long time. I have gotten so much care and understanding from all of the members. I think that there are a lot of members who do not post, or who post infrequently, but I sense their presence in the group. Of those who do post frequently I have found great wisdom and kindness. I know you will too. I'm looking forward to hearing from you all."
Member
Support For Lesbians Coming Out SFLCO
Online Support Group
for Lesbian and Bisexual Women

"I recently joined this group. So far I've gotta say that it has been the best thing I've done for myself in a long time. I can relate to the feeling of wanting someone to talk to in person, but I am very, very grateful for this Email group. I feel like I stood at the top of a mountain and JUMPED! I am now somewhere in the falling (flying, floating) part of my journey. I trust that I am going to have a peaceful and joyous landing. Thank you for creating this group. It has meant so much to me. It really feels like a life line."
DJ
Member
Support For Lesbians Coming Out SFLCO
Online Support Group
for Lesbian and Bisexual Women

"Anyone still here that was here a couple of years ago? Wanted to "give an update...

I turned to this group when I met my Melissa, and I think you guys were the first ones I told when I came out to my family.....Well, Melissa and I will celebrate our 3rd Anniversary next month, we both finished school (I got my degree in photography). We moved a little bit south, to the San Jose area because M got transferred for her job, and I am starting up a photography business.

When I first came to this site, I didn't know too many lesbians, but I have managed to meet some very beautiful women who are now my closest friends, and I no longer feel scared that someone might browse this website and figure out who I am.

Coming out is a strange thing. I have been taking it on a case-by-case basis. I don't bring it up if no one asks, but if they ask, I will tell them. Sometimes my rainbow belt gives it away. But I have never had any bad reactions. Just last week, when we met our new neighbor, she asked us if we were sisters... I think we both laughed and just said "no" and left it at that. An hour later, the neighbor came over and offered us a bottle of wine. She apologized for offending us (even though neither of us were offended) and said "I knew Melissa is gay, but you just don't look it, so I didn't know."

The world is changing. Imagine. Someone apologizing for assuming you are Straight!

Anyway, I just wanted to check in, see how everyone is doing, and let anyone who is just coming into this phase of their life know that I am a success story... if you do a search for Jane, you will see my stories..... a long way from where I was three years ago, but still happy and in love!
Jane
Member
Support For Lesbians Coming Out SFLCO
Online Support Group
for Lesbian and Bisexual Women

"I just joined the group last week and wanted to let you all know that I'm in awe of the caring responses, creativity, and courage of the woman in this group. I have been feeling very isolated, not really knowing any other lesbians where I live, and it's been incredible to sit down and read these emails. I'm lucky to live in an area where there is an active and relatively accepted gay and lesbian community, but I'm not a naturally outgoing person and I guess I'm having trouble taking the first step to meet other women. I would really appreciate if anyone wanted to share stories about how they have met other lesbians in their areas. I'm not looking for a relationship yet (although I guess I wouldn't mind if it happened) but would love to find a few lesbian friends. Thanks for your help and support!"
Heather
Member
Support For Lesbians Coming Out SFLCO
Online Support Group
for Lesbian and Bisexual Women
"This past summer, I turned 45 and all hell broke loose - that inner me wanted to come out. It has been a truly overwhelming feeling/process at times. Fortunately, I got myself into therapy and the woman I am working with is truly awesome. The second thing that has helped me find a little measure of peace is your website and support group. I only found you guys about a month ago but it has been like a balm to my soul. Truly. When the thoughts in my head get too much, I either find myself journaling or reading the message board. They both work equally well in calming me down. I don't feel alone on my journey - what peace to know that there LOTS of other women like me."
Paula
Member
Support For Lesbians Coming Out SFLCO
Online Support Group
for Lesbian and Bisexual Women

"First off, it is NOT a choice to be gay or not to be gay! No one would choose to be something that ostracizes them from a large portion of the population and that gives them little to no protections under the law for their loved ones. That said, I wouldn't choose to be different even if there was a choice to be made! Sorry, it really irks me when someone makes such an uneducated statement. A little research would tell him he is wrong.

"Now, here is my opinion, not advice, just an opinion based on my own situation.

"I too wanted kids and in my therapy session that I recently had..that is something new for me, therapy... I admitted that in part that is why I wanted to marry. In fact, I had a girlfriend of several years when we got married. I was still in love with her at that time even.

"Now, the 'right' thing to do once I married him was to stay married and keep that 'normal' family going... three kids, mommy, daddy, cat, dog, big house, blah blah blah... but no one ever mentioned being 'happy' or 'miserable' in that equation. It is very much about the appearances of what it is supposed to look like and not what it is supposed to feel like. And I too was miserable!!! There was no real love there. Now don't get me wrong... I did love him for a time as a person and even thought I was 'in love' with him but it was never enough and never could have been.

"I left two years ago after almost 15 years of marriage and honey it was the best decision for not only me, but for my kids as well. He is still a part of their lives. The difference is that they have a happier mom and a happier father now. Both of us are in relationships and living our lives the way that is best for us. I am outgoing and I get to go and do things with people now. He is a hermit and he lives that lifestyle. The children no longer have a bad relationship where people don't talk to each other and show no affection toward each other as their example of how it should be.

"I think I did those kids much more harm by staying in that marriage and having them think that that is how it is supposed to be then by leaving. It is NOT an easy decision to make and I did not do it lightly, nor am I suggesting that you should. I am just saying, look at this from the aspect of your happiness.

"Step back and look at it from your kids point of view. When your daughter or son looks at your marriage, what are they learning about relationships??? Is it healthy???

"Follow your head as well as your heart and you will do what is best for you and the kids in the long run. Just don't push your needs aside. It isn't selfish to want to be happy."
Tara
Member
Support For Lesbians Coming Out SFLCO
Online Support Group
for Lesbian and Bisexual Women

"Thanks so much for this support group. It has made such a difference in my life. I feel so much better, with less anxiety. I can't believe there are so many of us out there in the same saturation. Have a blessed day."
Member
Support For Lesbians Coming Out SFLCO
Online Support Group
for Lesbian and Bisexual Women
"You have no idea how you helped me through this journey. I know that I'm not yet totally out, but I know I'll soar high because I found my wings--wings that I didn't even know were there--just waiting for me to spread so that I can fly!"
Member
Support For Lesbians Coming Out SFLCO
Online Support Group
for Lesbian and Bisexual Women

"This support group means the world to me. I was in the depths of hell when I came across the website and requested membership. I was also very close to committing suicide as I felt I had no where to turn. This group changed it all. The members gave me a reason to hope, to want to go on, and most important of all I was able to get hooked up with a Therapist....My life is a million times better! I am stronger, and for the first time in 23 years, I am happy! Today I turned 47 but in many ways it's a real 'birth day.' I am in control of my life and loving every minute of it."
Nancy
Member
Support For Lesbians Coming Out SFLCO
Online Support Group
for Lesbian and Bisexual Women

"This group has been a godsend for me. I was so scared when I first accepted the fact that I am a lesbian. It took awhile for me to accept myself and start being proud of the person I am. I got to that point in large part because of the support and love of the women on this group. I lurked in the background, reading and digesting and learning. Thank you to Tracey for starting this group, to Nancy for moderating and to all the strong women who make this group so wonderful!"
Glenda
Member
Support For Lesbians Coming Out SFLCO
Online Support Group
for Lesbian and Bisexual Women

"You all are wise and wonderful women. I am so glad that I've met you. I will never be able to repay the blessings this group has given me. Thank you so very much for this meeting place and for the honor of getting to know you!"
Member
Support For Lesbians Coming Out SFLCO
Online Support Group
for Lesbian and Bisexual Women

"Thank you for starting this group, it's very comforting to have a place to go where I know I'll be accepted."
Member
Support For Lesbians Coming Out SFLCO
Online Support Group
for Lesbian and Bisexual Women

"This is something only Hollywood could come up with. I am a 67 y/o lesbian grandmother with 3 children and 6 grandchildren. I was widowed at 64 and have been exclusively lesbian since. I had my first lesbian sexual experience at 65 and have been with a lover for one year and we are moving into together next month.

"I met my oldest daughter today for lunch. We were served, and I told her I had something to tell her. I told her in life, some people don't choose human behavior, it's just something they are born with and act on. I told her I had a sexual curiosity for women since I was 12 and that I acted on it after dad died. I told her I enjoy the lifestyle and I met a lady and we have been lovers for a year and we are moving in together.

"Then my daughter said, 'Mom are you being serious?' I said yes. She asked 5 more times. I asked her why she had to ask 5 more times. She then said "I guess you do inherit your genes." I asked her what she meant. She chuckled and said that in college, she was BI-curious and had a lesbian relationship with her roommate. My jaw almost dropped. I asked her if she was just telling me this to make me feel good and she said, no, and that she was being truthful. We both laughed then. I had no idea she was BI-curious when she was younger.

"We finished lunch, gave each other a big hug and I asked her if she wanted to meet my lover and she said yes. We drove to my lover, and the two of them hit it off good. We then went to my daughter's home and I called my other younger daughter. I told her the same story, and she said she had a feeling I was lesbian. I asked her what gave her that idea. She said many times when we went shopping, that when I saw a women bent over and her panties or thong showed, I would give a deep stare. This was true. We both laughed and she said, it was okay.

"I called my son, and told him and he said that my youngest daughter had told him years ago that she thought that I was a lesbian. He said it was okay and that at least he would not have to try to get along with a stepfather if I remarried.

What a relief this was! I was worried for nothing. It feels so good to be out in the open now. I am going to tell Sarah, that I now want to hold hands in public and if she wants to kiss in public also, then that's fine. As far as my grandchildren, they're still young and as they get older, we can tell them.

"Not even the rainy weather in NYC could ruin this day. I can't wait to move in with Sarah. That's when the fun finally begins..."
Rebecca
Member
Support For Lesbians Coming Out SFLCO
Online Support Group
for Lesbian and Bisexual Women

"First and foremost, I want to thank you so much for the time and effort you put into this support group. When my whole world seems to be upside down, I know you, and all the other members, are here for me to turn to. It means so much to have others to cushion the almost daily falls that my heart seems to be taking right now during this stuff. O.K. Breathe. It will all be O.K. Thanks, Tracey. So much. For this arena of strong women, like yourself, to turn to."
Laura
Member
Support For Lesbians Coming Out SFLCO
Online Support Group
for Lesbian and Bisexual Women
"I joined your group when I was trying to find something to help me understand how I can come out and meet people. I only spent about a few months writing and responding in the group, but that was only because I was able to come out with grace to my family and friends thanks to the advice I received. I'm now dating a wonderful woman and I'm happier than I've ever been. Thanks for running such a helpful group!"
Sue
Member
Support For Lesbians Coming Out SFLCO
Online Support Group
for Lesbian and Bisexual Women
"I found out about you through Amazing Dreams Publishing...and what an Amazing website. The Group has been a source of comfort to me...although I am just a "lurker"...as I am in the process of coming out. What is nice is getting the sense that I am not alone. If only (famous last words!) something like this was available to me when I was younger, I would not have wasted so many years. So...Thanks for everything. You are providing a valuable service. And I, for one, am grateful.
Member
Support For Lesbians Coming Out SFLCO
Online Support Group
for Lesbian and Bisexual Women
I am so very grateful to have found this site. Thank you for what you are doing for so many people, and all the rest of you that are linking arms and going through this together, Your courage, comfort and honesty with one another is such a haven. By reading the messages coming across my screen, well, suddenly I don't feel so all alone with my thoughts, and I'm certainly not unique in this. Again, thanks
Member
Support For Lesbians Coming Out SFLCO
Online Support Group
for Lesbian and Bisexual Women
"I've only read a small sampling of all the messages, but I already felt that I have discovered the right group, without even searching that hard! I felt a lot of shame at taking so long to discover my true nature--and at times I still have doubts. So, it's very comforting to be in a group where there are other women who didn't just have instant clarity and congruent action at age 14 or something."
HC
Member
Support For Lesbians Coming Out SFLCO
Online Support Group
for Lesbian and Bisexual Women

"I only became a member of the group on Saturday and am touched by the warmth and compassion that emanates from these postings. I feel blessed to have found this refuge; a safe place to listen, talk if I need to and maybe learn how to finally make peace with who I am."
Stacy
Member
Support For Lesbians Coming Out SFLCO
Online Support Group
for Lesbian and Bisexual Women

I just wanted to say I have gotten so much help from this group in such a short time, and as I'm sure I've said many times before, I don't know how I'd have coped without it. I am so thankful for the fact that you set up and run this group, with all the additional duties you have as well at home and work. I'd also like to thank all the ladies in the group for their advice and support. Even people who I never spoke to directly have helped me unknowingly. When I read their posts and identify so much with what they're saying, it lets me know I'm not the only one going through this stuff. Even when their posts are just about ordinary life, it helps and takes me mind off my situation. This is a much longer post than intended, so to sum up I'll just say - THANKS EVERYONE!!!!!"
Jane
Member
Support For Lesbians Coming Out SFLCO
Online Support Group
for Lesbian and Bisexual Women
"When I found the SFLCO Support Group, I was at a crisis point. Mentally and physically I was a wreck. I was literally on the verge of a nervous break down and was suicidal. This group has in a very real sense saved my life. I now have a safe place to share my joys and my struggles. I have peace and hope back in my heart. My sense of self-esteem has returned along with my mental and physical health. Thank you for being there for me."
Pam
Member
Support For Lesbians Coming Out SFLCO
Online Support Group
for Lesbian and Bisexual Women

"Not sure why, but I want to cry. You folks...all of you folks have meant so much to me for the past few months since I joined the group. I will never be able to let each and every one of you know just how much you have helped me! You guys are my cyber family and I love you all so much. I cannot wait until next October when I plan to go to NC and join in the festivities, and especially to meet at least some of you."
DG
Member
Support For Lesbians Coming Out SFLCO
Online Support Group
for Lesbian and Bisexual Women

"A funny thing happened that I would like to share. My prospective girlfriend, knowing that I have no sexual experience with women (or with men for that matter) sent me something she thought would help. She found a great website "Amazing Dreams Publishing," and downloaded an Ebook for me on, well, lesbian sex tips. Funny, but the authors seemed a bit familiar. We had a huge laugh over it when I told her I was aware of the book, and that I had joined this group. I also told her that we already owed the authors of the book and this group quite a bit. Without everyone's support, I don't know if I would have had the nerve to even begin to explore this new side of myself. I suspect I would have been unsettled and unhappy, and not even understood why. I take this as a good sign, and yet another reminder that is is indeed a small world."
Patricia
Member
Support For Lesbians Coming Out SFLCO
Online Support Group
for Lesbian and Bisexual Women

"A million thanks to the owner and moderator of this group! You're very instrumental in helping not just me, but countless lesbians and/or others through uncertain times. The Coming Out guide is a wonderful resource that I can't even imagine how much time you invested in putting together. SFLCO is a great support system for those of us who are either struggling to figure out where we really stand or know where we stand and are struggling to deal with outside issues related to it. And usually, all you have to do is announce that we have a new member, but you had to put ... How much time into muddling through the technical bull to help me become a member. Technology stinks sometimes, but I really appreciate everything that you did to get me into this group. Those are just a few of the things that you've done to help not just those of us on the list, but lesbians all over the US and beyond. So from me for one, God bless you for everything!"
Anne
Member
Support For Lesbians Coming Out SFLCO
Online Support Group
for Lesbian and Bisexual Women
"As a lesbian living in utter isolation, I found myself in a severe depression. By luck I found the Support for Lesbians Coming Out group and it absolute lived up to its name. I was not seeking a dating site. I was searching for a reason to live but did not understand myself in anyway. Once I became involved in the group, I not only found a home but a family. A family of ladies who support, care and understand issues that are related to ones self acceptance of being a lesbian and coming out as well. Little by little I was able to reach out to my own friends and gain acceptance. I found the courage to accept therapy and now am a very happy lesbian who is embracing life!!! Thanks Tracey for offering me a home!"
Nancy
Member
Support For Lesbians Coming Out SFLCO
Online Support Group
for Lesbian and Bisexual Women
"I can hardly believe it has only been a week. It feels like you all have been supporting me much longer than that! Amazing. Nothing major in my life has changed and yet, everything has changed, because you are there. In the Catholic church we talk about the "communion of saints" (those who have gone before us into glory and are pulling for us.) Well, here, right here, is for me a more tangible communion. A communion of women on the way to wholeness, to embracing who they are and to loving others out of a place of peace-filled integrity. Not that we have arrived yet, but we press on. I have been so inspired (and blessed!) in the past week I have to stop saying Spirit is not responding to my prayers. She just did. Thank you all for living out loud here in this group. Thank you for welcoming me in."
Donna
Member
Support For Lesbians Coming Out SFLCO
Online Support Group
for Lesbian and Bisexual Women
"I have gotten so much help from this group in such a short time, and as I'm sure I've said many times before, I don't know how I would have coped without it. I am so thankful to the that the women who manage this group, especially with all the additional duties they have at home and work. I'd also like to thank all the ladies in the group for their advice and support. Even people who I never spoke to directly have helped me unknowingly. When I read their posts and identify so much with what they're saying, it lets me know I'm not the only one going through this stuff. Even when their posts are just about ordinary life, it helps and takes me mind off my situation. This is a much longer post than intended, so to sum up I'll just say THANKS EVERYONE!!!!!"
Jane
Member
Support For Lesbians Coming Out SFLCO
Online Support Group
for Lesbian and Bisexual Women
"I have learned a lot from the members in this wonderful group. This place really is a Godsend. I never knew there are so many women in this world just like me. The support and encouragement this group supplies gives hope and freedom to all its members. That's a pretty incredible thing. This group is vital to my survival. It really is. Thanks for providing it"
Ginger
Member
Support For Lesbians Coming Out SFLCO
Online Support Group
for Lesbian and Bisexual Women
"Hello, to this amazing group! I have been reading some of your personal experiences, and I could not believe how much love is coming from this group. I think each and everyone of you are wonderful, caring people. I just really needed to let you know my feelings. Feeling the love . . ."
Ann
Member
Support For Lesbians Coming Out SFLCO
Online Support Group
for Lesbian and Bisexual Women
"I still can't thank you and everyone else enough for the help you've given me. Tracey is wonderful for setting up the group in the first place - there's nothing else like it. I don't know how I'd have coped if I hadn't been able to come here and talk things over and get advice. I love reading other people's posts too (whatever they're about), it gives me other things to think about so I don't dwell on my situation. As I've said before I really hope that one day I can help someone too. It is like having another family, coming here and seeing what other people have been up to."
Jayne
Member
Support For Lesbians Coming Out SFLCO
Online Support Group
for Lesbian and Bisexual Women
"I initially joined because I felt like I was stumbling around in the dark with questions I did not have answers to. I had to watch and read in silence for a considerable amount of time before engaging in any conversations being very concerned for anonymity and such. Quite skeptical, and very hesitant and doubtful, I have since learned that the individuals in here are concerned, knowledgeable, and truly care about everyone in the group no matter what stage the individual may be in. They will be very conscientious about the privacy and well-being of its members. Whether you are gay, bi, or just seeking to find out where you are....these people will make every attempt to help, support, listen, and speak truthfully with you in an honorable and caring fashion."
Rebelshade
Member
Support For Lesbians Coming Out SFLCO
Online Support Group
for Lesbian and Bisexual Women

"Having no sexuality at all isn't very fulfilling--I know, I've tried it. Finding out where your latent homophobia lies is helpful. I know mine came from my strict Catholic upbringing. I have never felt hatred or disgust for gay folks, even before I found out I was in the ranks. It was harder not to hate myself. I struggle every day to let it go, because hating yourself is a terrible way to live.

You have a sexuality, you just need to give yourself enough space to discover it. Whether you are straight, BI, or lesbian, or some unique and beautiful mixture of all of them, you will find yourself in time.

In the short time I've been exposed to the gay community, and through my lapsed membership in the Straight Woman's Club, I've found that almost without exception, everyone tries to stick labels on everyone else, and themselves. Straight. BI Lesbian. Butch. Femme. Sinner. Saint. The only place I've ever found that does not affix labels is this group.

You don't have to accept ANYONE'S labels. Period. You don't have to have all the answers, either. Be honest with yourself and your partners, male or female. Listen to your heart and soul when they tell you something is right, and give yourself the time to relax and just enjoy life, without worrying if you are doing it correctly. The answers will come in their own time. And the journey to find them is fun--scary, but fun."
Pat
Member
Support For Lesbians Coming Out SFLCO
Online Support Group
for Lesbian and Bisexual Women

"I love all of you and your stories are a great encouragement! I could never read all of the posts but have tried fervently. I am in awe by the connection I feel to woman from all over the world and every culture. Thank you for your insight and honesty. I've cried, laughed, considered, and shared with you through your words. Thank you for being my family. I am NOT alone. . ."
Mo
Member
Support For Lesbians Coming Out SFLCO
Online Support Group
for Lesbian and Bisexual Women
"I think we could tell you thanks a million times a day and it would never be enough. You saw the greater picture, envisioned the future, and opened a whole new world for so many of us, and I thank you with all that I am."
Member
Member
Support For Lesbians Coming Out SFLCO
Online Support Group
for Lesbian and Bisexual Women
"If anyone is struggling with anything to do with their sexual orientation, or anything for that matter, like I have been all night, I'd like to encourage you join this group. It did me wonders, and now I feel I can go to bed, rest my mind, and dream peaceful thoughts which I deserve."
Annie
Member
Support For Lesbians Coming Out SFLCO
Online Support Group
for Lesbian and Bisexual Women
"I draw strength from just knowing that although we all have unique stories or experiences, I am part of a group that shares one thing in common - we are all dealing with coming out. The support the members give each other is amazing, and they have helped me realize that its OK to not only be me, but celebrate who I am."
Aimee
Member
Support For Lesbians Coming Out SFLCO
Online Support Group
for Lesbian and Bisexual Women
"Honestly, I don't know where to start. I briefly touched on how I feel about this group in a recent post, but it still didn't seem sufficient. Every negative I've experienced since coming out has been countered here. Days when I thought it might be easier to give in and rollover - there was a post from someone here to give me that little extra to keep going. Thing is, I don't back down easily anyway LOL - but SFLCO helped me stand my ground not "just because" - but because it's important that I fulfill all I'm meant to be. So, I'm still thinking, turning things over in my mind, trying to come up with "The Quote." As important as this group has been to me, I want it to be Good."
Nicole
Member
Support For Lesbians Coming Out SFLCO
Online Support Group
for Lesbian and Bisexual Women
"We owe this support group THE MILLIONS OF THANKS. If it weren't for this group and a place to hang my heart I really would be struggling through this. You all have been so supportive of me and held me through a very trying time in my life. You created that for me and I am ever so grateful and endeared. Thank you for being here and leaving the light on for me. Thank you for your words of wisdom and inspiration. I truly am a better woman and lesbian because of this group and the fantastic women in here. This group rocks!"
Margaret
Member
Support For Lesbians Coming Out SFLCO
Online Support Group
for Lesbian and Bisexual Women
"When I finally realized I was a lesbian, I felt totally lost and alone and terrified until I found The Coming Out Guide and this support group. The guide is wonderful but the support group is alive, evolving and reactive, proactive... a true friendship in a sense, a shelter for a first out lesbian, a hand, a hug... a warming welcome... you-belong-kind of space. I feel at home with you guys and very grateful to Tracey. I have seen her immediately step in when she feels this space threatened and keep us safe from sexual posting and all other kind of garbage and I like that, very much. I feel safe because she keeps this space safe. I also identify with so many of you that I feel among friends all the time. One thing I notice in this group is that even when members don't post they do read... like me... even when there are many message... I read and I look forward to the posts, the answers. The group has become a ritual, a reality check-in (cyberspace?) and my connection to my true self."
Sol
Member
Support For Lesbians Coming Out SFLCO
Online Support Group
for Lesbian and Bisexual Women
"This group has been awesome and a great support for me right after my break with my ex and horrible experiences in chat. It is nice to have this group a key stroke away. It is also a relief to talk to other women going through the same process. It is difficult to put in words, at this moment, all the positive ways that this group has touched my life. I have a feeling that the transformation for me has just started. I am looking forward to this next year and being able to express myself in here. I am currently working like crazy at the bookstore and you have inspired me to reach out to others in my area in any way I can, by making your book available to them in the store too. I am thankful that this is a monitored "safe place" for lesbian women to share. I was actually about to discontinue my Internet services when I stumbled upon this little group. I started this group completely distrusting of everyone due to disgusting cyber chat rooms and completely disconnected to other "true" lesbian women. I agree that this place has been awesome in its security and open and liberal in its delivery. Thank you."
Kate
Member
Support For Lesbians Coming Out SFLCO
Online Support Group
for Lesbian and Bisexual Women
"I have been out for 20 - something years. When I joined last year, foremost I was remembering how desperately I had wished to have such a place when I was first coming out. The first message I got was a welcome from Tracey, who introduced herself as a fellow horsewoman. I still had no idea what I was getting myself into. I am listening to Larry King right now...Linda Dano was just saying how very important it is to reach out. (The topic is battling depression) I don't think I've thought that I've had any kind of profound wisdom or advice to give, only a hand to give out, a strong shoulder to bear it, and loving heart that accepts all. Thank you all for being there for me. I truly do believe, I have gotten much more than I have given"
Karen
Member
Support For Lesbians Coming Out SFLCO
Online Support Group
for Lesbian and Bisexual Women
"I'm a 43 year old Black/mixed Lesbian Femme from the Dallas/Fort Worth area, and I'm really glad to be part of an wonderful group for "Ladies in the life" and that I have a place to go where we can talk,discuss, debate or whatever and respect everyone's opinion. I've always loved girls when I was little and as I was growing up it was women. It had to be for a really good reason. That it was who I am. Proud to be an Lesbian! We need more groups like this that are worth while to join. We love women, and we shouldn't be shunned or ostracized for it by society at large. I was born an Lesbian and that is who I am and always will be. Thanks for letting me be part of this great group!"
Tayshanda
Member
Support For Lesbians Coming Out SFLCO
Online Support Group
for Lesbian and Bisexual Women

"I agree that it is really difficult to put into words just how much this group means to me. The amazing ladies in this group walk alongside me in my journey to be a fully self expressed woman, accepting all aspects of my sexuality. I am also blessed to be able to have the opportunity to contribute to the lives of woman that I may never meet in person but that hold a very special place in my heart. I live in a small town in New Zealand where there is no support for woman coming out and it is 5 hours to the closest big city. By being a part of the SFLCO group I know that there is always someone at the end of the keyboard through the ups and the down. I have learnt so much from the sharing of others and know this is a safe place to ask what feels like even the silliest question. To all the woman in this group, thank you for allowing me to be connected to this chain of friendship and growth. Being part of this group has meant soo much to me over the past year and it has been an honour to be apart of it and what it group and the members blossom. I don't think I could ever put into words what it has meant to be apart of this group. To find a community of woman who offer love, acceptance and support unconditionally has been the light at the end of the tunnel."
Kia kaha,
Arohanui e hoa
Rainbow Angel
Member
Support For Lesbians Coming Out SFLCO
Online Support Group
for Lesbian and Bisexual Women

"As a short-timer on the list, I've already gained so very much from the support and acceptance of SFLCO members and moderators. Living in a small NW FL town is hard if you're different. Diversity is not embraced here, so having a list of like-minded, caring, and supportive women has been invaluable in a difficult time in my life. It's a safe nest to be in when you're learning to fly."
Katy
Member
Support For Lesbians Coming Out SFLCO
Online Support Group
for Lesbian and Bisexual Women
"I know that my load has become a lot lighter since finding this group, and many others must find it that way too because of all the messages that have been posted. I look forward to getting the chance to go online and check and see what's happening with the members, and knowing that there are sympathetic ears listening and ready to give practical advise that helps me to cope with all these new feelings."
Fredie
Member
Support For Lesbians Coming Out SFLCO
Online Support Group
for Lesbian and Bisexual Women
"It's very hard to put into words everything this group has done for me. You ladies have been my lifeblood some days. There's been times where I felt I had no where to go and no one to talk to. You've been tough when you needed to (many of you will remember that about a year ago LOL). You've been loving when I was needing it. You've done so much to support me and help me that it's impossible to even BEGIN to put it all into words. This goes not only for the wonderful moderators but the others in the group also. You've let me know that I'm not alone and that others have similar problems. No question I've ever asked the group has been looked at as "stupid" or anything like that. Every single question I've asked has been answered with great advice and additional resources if needed. I've learned that it's OK just to be me and I am the only one that can make me happy. I don't need to be in a relationship, I don't need to keep my parents happy. I just need to be me. THANK YOU to the whole group. And I'm sure there's probably about 5 pages of stuff I could put in here that you wonderful ladies have helped me out with."
Angie
Member
Support For Lesbians Coming Out SFLCO
Online Support Group
for Lesbian and Bisexual Women

Support For Lesbian Coming Out:
The Wind Beneath My Wings

Often times we turn to the SupportForLesbianComingOut group as a means of self-expression. The Support For Lesbians Coming Out group is very hospitable. Most of us find the contentment we are searching for in it as we embrace it; our needs for self-expression and self-improvement are often satisfied. We are free as bird in this field and the Support For Lesbians Coming Out group is the wind it could bring us where we want to go, it lifts us up…We owe it not only to society, but to ourselves as well to listen: to understand. We are the birds and the Support For Lesbians Coming Out group is the wind beneath my wings."
Cutie Cute Cute
Member
Support For Lesbians Coming Out SFLCO
Online Support Group
for Lesbian and Bisexual Women

Poems Written By Our Members:

"I just wanted to say thanks for all the hard work you do, so I wrote this poem for you. I hope you like it. With much appreciation and heart felt thanks.
Pam
Member
Support For Lesbians Coming Out SFLCO
Online Support Group
for Lesbian and Bisexual Women


Soul Whisper
Across the miles
Carried by the wind
In the laughter of a child
In the smile of a friend
Can you hear
My soul whisper?
A simple thank you
from this heart of mine
In the beauty of the sunset
In the joy of a dream fulfilled
In the simpleness of life's
Smallest treasure
One life that's been changed
Doesn't seem like much
But for the life that's been changed
It's more than enough
Can you hear my soul whisper
Across the miles
In the stillness of a summer's breeze
Or the beauty of the rising moon.
Hear my soul whisper

Following is a thank you to Tracey Stevens, co-author of "How To Be A Happy Lesbian: A Coming Out Guide," who volunteers her time to manage our Support For Lesbians Coming Out group:

Humble is the soul that
recognizes its own shine.

Ample is the heart who makes
other's sufferings its own.

Hope is what you so generously give
to thousands of women who,
because of you, know the darkness
of abuse is not eternal,
but a path to a strong mature
wonderful womanhood as your own.

Your strength is our shelter;

Your success the opening of our futures.

May the universe shower you
with gifts and talents
so you shall continue your
hard earned mission.

"The best part of my coming out process was and is this group, and all the women I have come to know through your work. From my humble and rejoicing soul to yours."
Member
Support For Lesbians Coming Out SFLCO
Online Support Group
for Lesbian and Bisexual Women

"Thanks for being here for me it means a lot to me. Just knowing I have someone that understands what I'm feeling and what I'm going through makes it a little easier to deal with all these crazy feelings inside. I know I don't always say just how confused I feel. But it's strange finding love and comfort in the arms of another female. Being older and realizing now these feeling were here a long time ago is even more strange. I tend to write when I'm having feelings of confusion. Sometimes it makes sense to no one but me. As I struggle with all these feelings inside, I'm learning to find some comfort in my new found friends here in this group. If you listen closely you may hear my voice within."
Flipper
Member
Support For Lesbians Coming Out SFLCO
Online Support Group
for Lesbian and Bisexual Women


A Little Bit More of Me

My mind is in a state of confusion.
My body is in a state of comfort.
My soul is finding peace.
My mind tries to understand what I once was
And what now other people are.
People have become the narrow-minded
One finger pointing at me, three at themselves.
This used to be me.
The tables have turned.
How strange.
My body is finding comfort.
For the first time I truly feel safe
I feel warmth and love.
Somehow this woman makes me feel protected.
I could lay in her arms just needing to be held
She understands this.
It's not about sex, it's about love.
I'm finding out there is a difference.
She's teaching me to love.
My soul is like a new bird
Learning to fly.
The sky is the limit.
At times I have this new found peace within
One that brings me comfort.
When everything else seems to be a struggle
It will carry me through.
I will learn to trust the voice within
I will learn to fly.

FLIPPER©2005