My Experience at the
Oprah Heroes/Favorite Things Show
By Tracey Stevens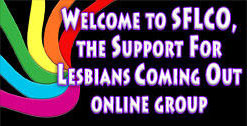 How I was nominated to be
on the Oprah Heroes Show


I was very shocked when Sharvonne from Harpo Entertainment called on November 8! She told me that The Oprah Winfrey Show had received more nominations for me to be on the Heroes Show than anyone else, and that they were inviting me to be at the taping in Chicago on November 16th. Seems these nominations were all coming from our Coming Out Support Group.



I had no idea this was going on until a member from South Dakota called me and asked if I'd had any unusual phone calls on Sunday. She would never say anything besides someone from the Oprah Show had called her. Of course I knew something was up, but I sure didn't know what until Oprah's booking assistant, Sharvonne, called me on Monday evening. Sharvonne told me that I had more nominations than any other hero ever, and that they really wanted me to come to the show because of the community service my company does especially for women coming out worldwide--really sweet of them to do this.



I was very excited to be able to be nominated for the Heroes Show, as I really have a lot of respect for the work that Oprah does. I grew up in a very abusive home, and I was disowned and kicked out at age 17 because of who I am. Instead of allowing this negativity to get me down, I turned it around and allowed it to give me strength to write books for women who are coming out, many times completely alone, and to start the support group to help women from all over the world.



Our Coming Out Support Group has been online since Nov. 5, 2003, and during that time we have helped over 4,000 gay, bisexual and questioning women who are coming out. At this time we over 975 members; some who live in countries where being a gay or bisexual woman is an automatic 10 year prison sentence. We also have members who live in countries where if their true sexual orientations were known, they would be publicly executed! Our support group provides a safe space for all women to be who they are, no matter who they may be.



Oprah truly is like a mentor to me as far as how someone can rise above negative things, and still do her part to help those who are in need. Many thanks to the Coming Out Support Group members who nominated me, and also thanks to Oprah and her staff for the invitation; I was honored to be at a taping of one of her shows!



Tracey Stevens
Coauthor of
"How To Be A Happy Lesbian: A Coming Out Guide"
"Coming Out Advice for Lesbian and Bisexual Women"
"Relationship Advice for Lesbian and Bisexual Women"
For the next chapter on what happened
at the Oprah Winfrey Show
Click the Following Link:



Author of Coming Out Support Books for Women
Nominated for The Oprah Heroes Show